Given its rich aviation history, from early experiments in lighter-than-air flight to the modern Fleet Week,[1] it's no surprise there are old Bay Area airports waiting to be discovered.
What I didn't understand, until finding this incredible resource by Paul Freeman,[2] was just how many airfields there used to be. With Paul's blessing, I created this map of 60 airports in the areas of San Francisco, San Jose, Oakland, San Rafael, Santa Rosa, and Monterey.[3]
I also created georeferenced image overlays for the 5 airports below, which you can see on either ForeFlight or Google Earth.
A Few Old Bay Area Airports
Each abandoned & little-known airport has a cool history, and I'd be happy to expand this set of georeferenced images if there's interest![4] For now, I picked five of my favorite airports from the Peninsula that I'll be looking for on my next Bay Tour.
Crissy Field

Mountain View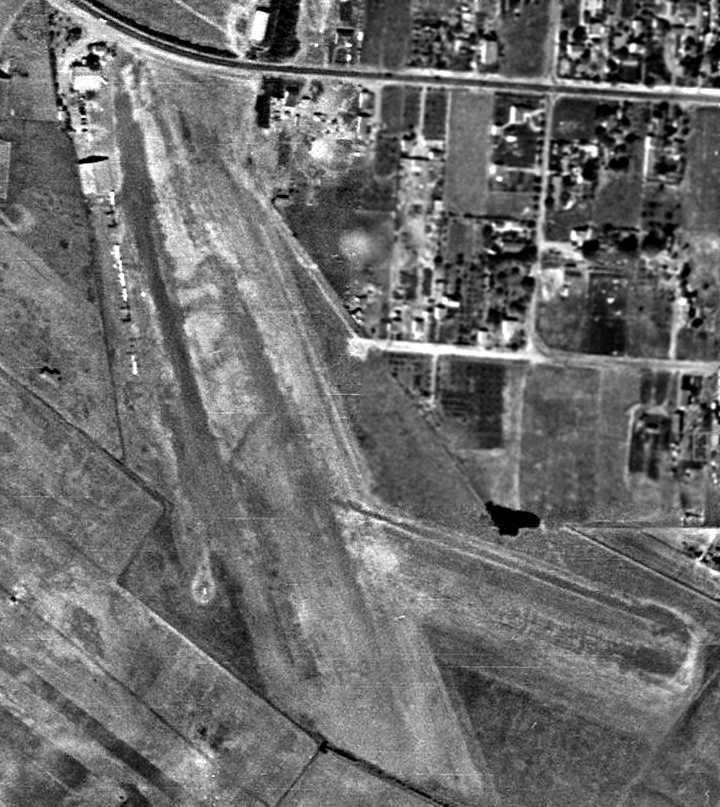 Hiller Factory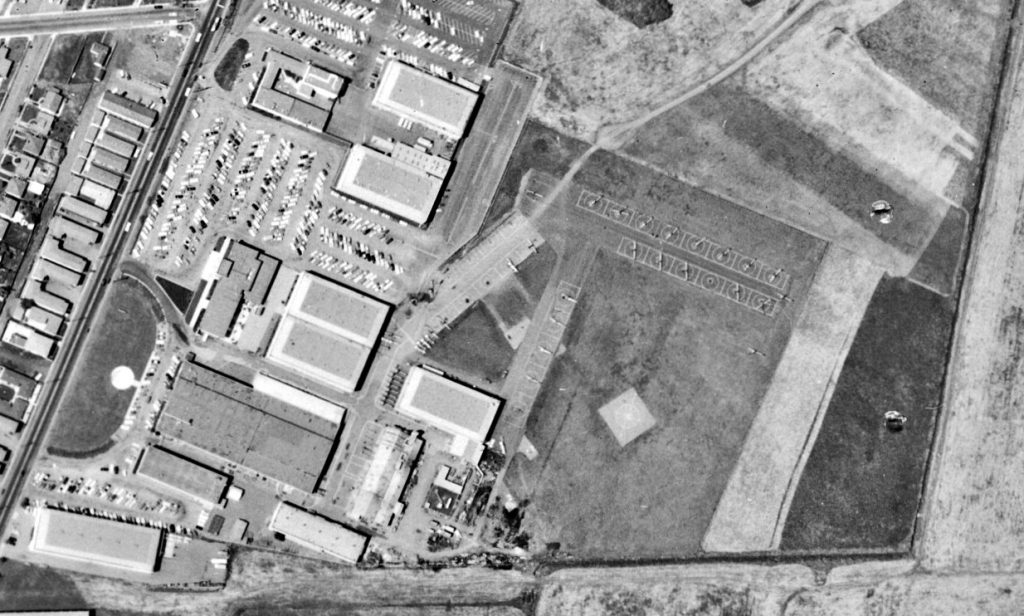 Bay Meadows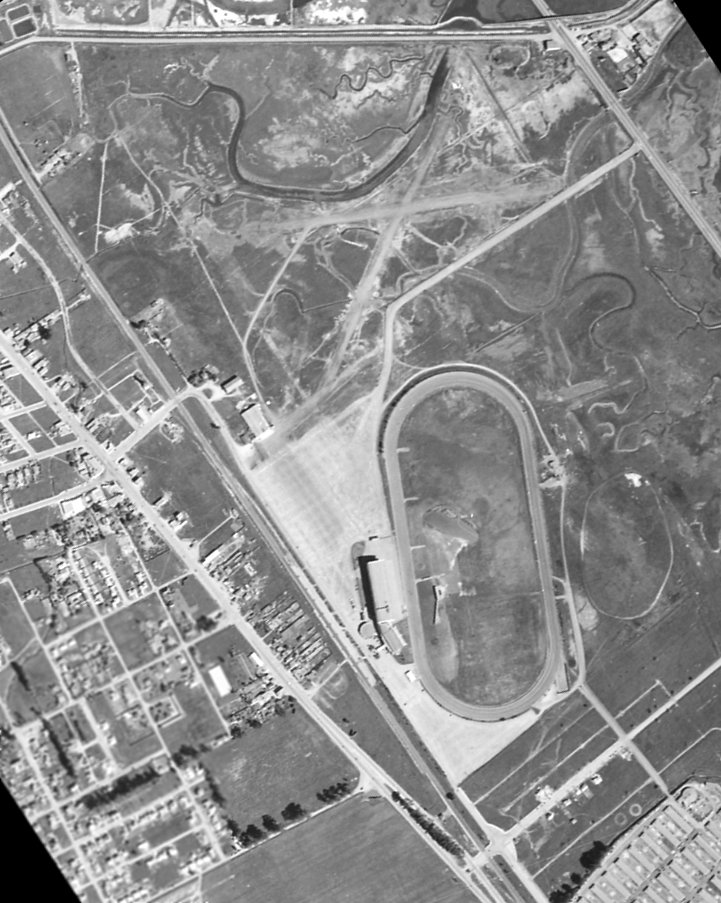 San Mateo Highlands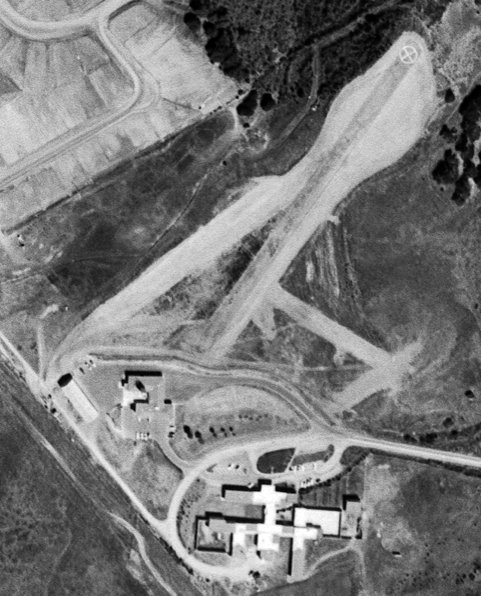 Georeferenced Airport Images
These georeferenced images were made using MapTiler, one of my favorite tools for ForeFlight projects. You can see the results in either Google Earth or ForeFlight.
Using Google Earth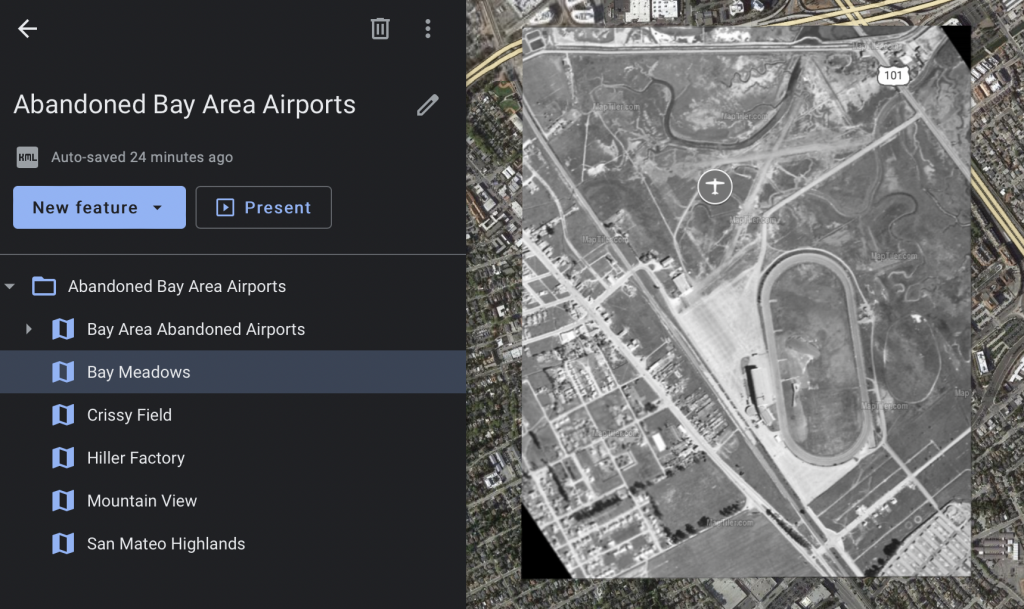 To see the image overlays in Google Earth:
Start by downloading this KMZ file. This defines the 60 airport locations and the 5 georeferenced airport images.
Open Google Earth in your web browser, and select the "Projects" tab.
Import the KMZ file from your computer using "Import KML", and double click one of the airports to zoom in.
Using ForeFlight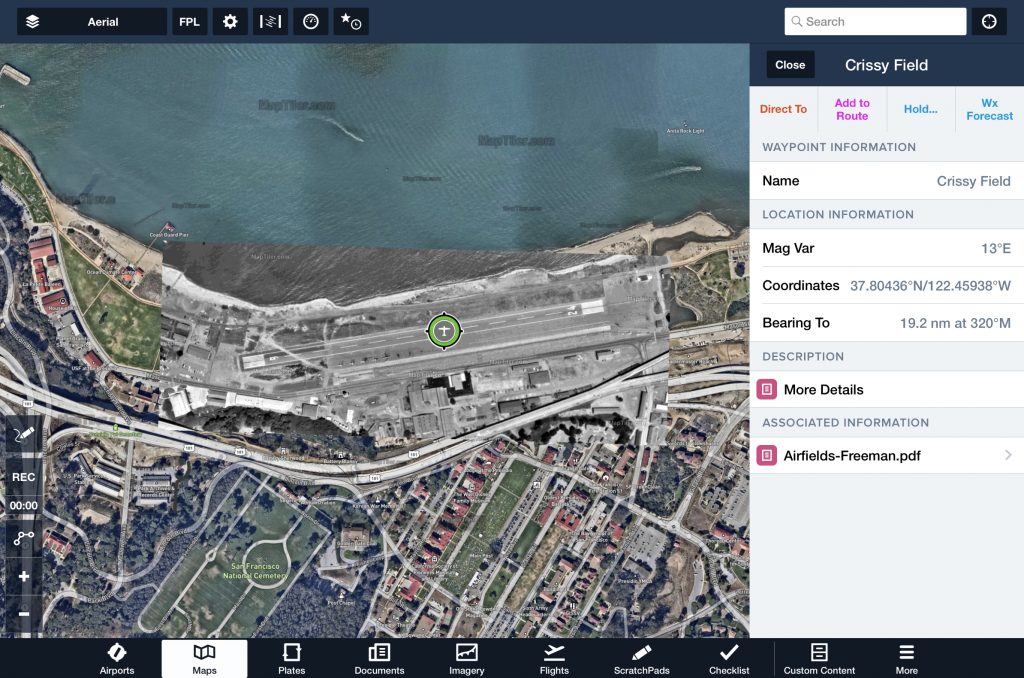 To see the airport locations, georeferenced airport images, and additional PDF information as a content pack in ForeFlight, click this link from the iPhone or iPad where you've installed ForeFlight.
If you want to learn about content packs generally, check out my post about Bay Area content packs.
Plausibly Useful Idea: Gotchas for Compressing Zips on a Mac
This post's plausibly useful idea is about compressing files on a Mac. For instance, to make your own ForeFlight content pack, you could download a template from ForeFlight, tweak it, and right-click the folder in Finder to compress it.
This method is simple and allows you to share the .zip with ForeFlight. But, if you wanted to publish it for others, you may wish to remove some Mac artifacts (like .DS_Store) before you zip it.
For example, I used this Terminal command to prepare the content pack for this post:
zip -r AbandonedBayAreaAirports.zip . -x "*.DS_Store"
Happy flying! And feel free to reach out if you're interested in starting lessons!
Jack
----
If you'd like to learn more, SF Chronicle has a good overview. And if you'd really like to dive in, check out Aviation in Northern California 1910-1939: Vol. I, San Francisco Bay Area.⌃
While this post focuses on the Bay Area and a few surrounding counties, his site covers airfields across the country. Please consider donating if you also enjoy the site.⌃
I know that's more than the Bay Area, but I was having too much fun 😅⌃
Let me know in the comments or contact me directly.⌃
Image originally from UCSB.⌃
Image originally courtesy of Mark Lakata.⌃
Image originally from UCSB Library, courtesy of Jonathan Westerling.⌃
Image originally from from Alexandria Digital Library @ UC Santa Barbara, courtesy of Jonathan Westerling.⌃
Image originally from Bruce Moore.⌃